Ultimate LiFePO4 professional level battery charger. High efficiency diagnostic charger and tester for LiFePO4 / LFP batteries.

Perfect for charging and seasonal maintenance of a 13.2V LiFePO4 / LFP battery sized from 2 to 100 Amp-hour.

SAVE : Low Volt Start of 0.5V + 3-step low volt SAVE and TEST; CHARGING AMPS: 6A (AmpMatic).

USE: Indoor / Outdoor (lowest temperature: -40°F / -40°C); STYLE: Weatherproof case with wall mounts, with 6ft / 180cm AC supply lead and 6ft / 180cm charge lead ending in SAE connector; Weatherproof battery lead & standard battery clip set included.
With 5 Amps of charge current available OptiMate lithium unique multi step ampmaticTM program recharges and balances cells within the battery quickly and efficiently.
OptiMate lithium's maintenance program delivers current to the vehicle circuitry, protecting and keeping the battery at 100% charge.
IDEAL FOR: Lithium (LiFePO4) 12.8/13.2V batteries from 3 – 72Ah
CHARGING AMPS: 6A (Ampmatic current)
CHARGING VOLTS: nominal: 12.8V range: 0.5V – 14.4V
OPERATION:  Fully automatic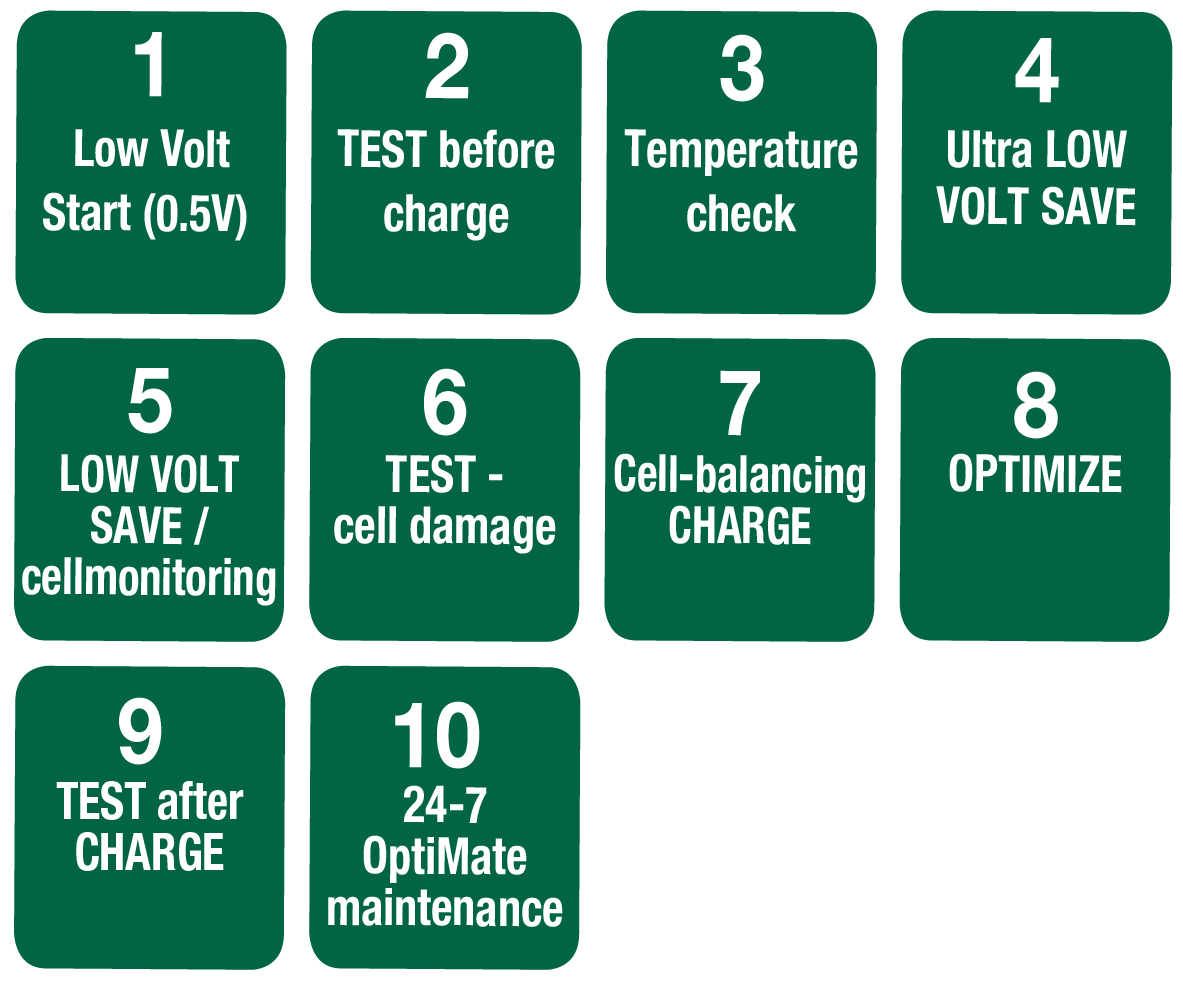 FEATURES: Starts from 0.5V with continuous monitoring / testing of charge acceptance or bad / shorted cell condition. Unnecessary (and unsafe) charging of a bad battery is prevented.
INPUT: Global (100-240V 50-60Hz), high efficiency (CEC listed).
SAVE : Low Volt Start of 0.5V + 3 step low volt save & test.
SAFE: No risk of overcharging. Totally safe for vehicle electronics. Sparks suppressed. Safe for long-term battery maintenance. Automatic shut-down if short-circuited or battery disconnected.
Technical Specifications
Recommended for LiFePO4 batteries: up to 100Ah
Programme control: ampmatic microprocessor
Input current max: 0.55A at 230V
Reverse drain current: less than 0.001A
Output current (bulk charge): 0.4A – 6.0A
Charge time limit: 24 hours (maintenance time: unlimited)
Maintain/test cycles: 30 min/30 min (alternating hourly)
Charge retention test: Range: 10.1 – 13.3. GOOD (green) = battery voltage > 13.3V
Enclosure classification: IP54
Mounting: east direct wall mounting
Input & output cable lengths: 2m
Lowest temperature range: -40°C – +40°C (safe for indoors and outdoors)
Warranty: 3 years limited warranty through OptiMate